Integrate Office 2007 / Office 2010 with Windows XP / Vista / Windows 7 / Automate the Installation of MS Office
You can easily automate the installation of MS – Office.
Copy entire MS – Office 2007 from CD to a folder in your hard disk
Go to the MS – Office 2007 root folder
Type setup.exe /admin
Office Customization Tool will appear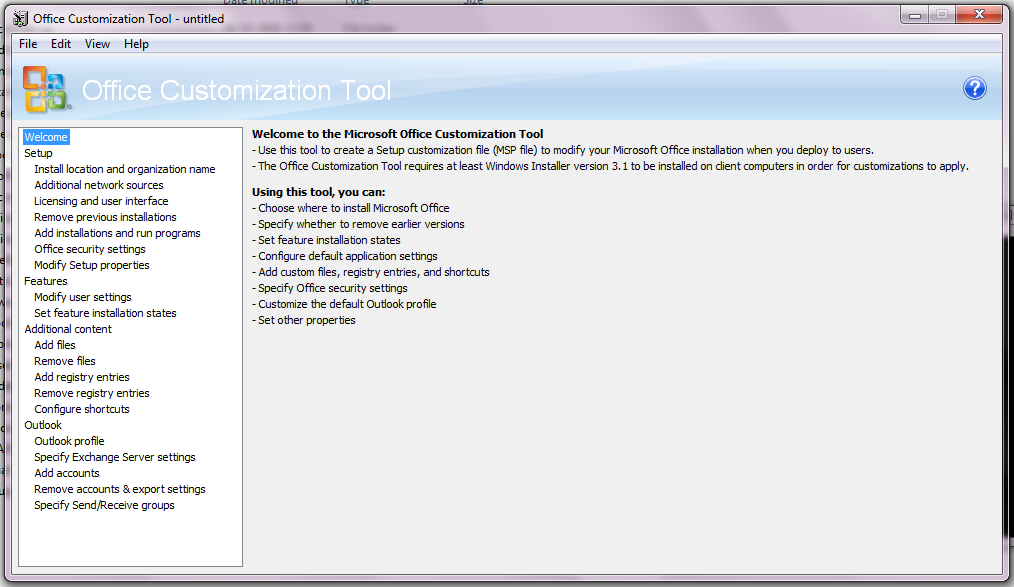 Enter the necessary options such as Install Location, Organization name
In the Licensing and user interface section,
Enter your product key and set up the following options as you want

To setup how the user interface is displayed during installation setup the display level options.
Full – default – Setup runs interactively, displaying all of the user interface and messages.
Basic – Setup displays the Welcome screen, prompts for the product key and end-user license agreement (if needed), and displays a progress bar and the completion notice.
None – Setup runs quietly, displaying no user interface.
To do silent install under WPI select None option.
Finally, In the Office Customization tool window click File à Save option
Now, Save your customizations in a Setup customization file (MSP file) and then place the file in the Updates folder (If updates folder does not exist create it under Office 2007 root folder)
See the following post to know how to integrate it with WPI.
https://www.livetolearn.in/site/blog/creating-all-one-windows-xp-dvd-al…
Your downloaded file will be a sing msi file. In command line type filename.msi /extract:office2010
Then the setup file will be extracted to the office2010 folder.