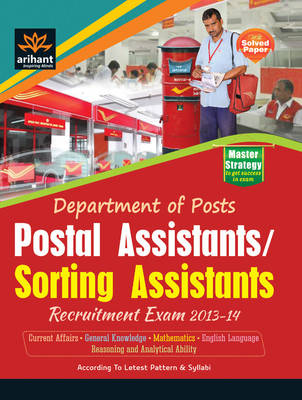 ​Before choosing the books for preparation, you have to decide whether you are going to buy book only for postal exam or to prepare for other exams also.
My advice is to buy standard books to prepare for all examinations. These books cover well all topics. If you are already preparing for SSC, IBPS, State PSC exams, then this exam will be easier to you.
Recently Postal Assistant / Sorting Assistant Exam Pattern & Syllabus restructured similar to the Bank clerical examinations.
Postal Assistant / Sorting Assistant examination contains 4 sections (General Knowledge, Aptitude, English, Reasoning).
If you already have the standard books bought for other examinations, just use it.
1. Standard Books
These books are more detailed and almost all topics discussed.

Useful for other exams also.

It's enough to buy any one book for each section according to your budget.
(1) General Knowledge / General Awareness
For general awareness prepare Current affairs, then the below book will help you to improve the standard General Knowledge
Lucent's General Knowledge 4th Edition
Author: Vinay Karna, Manwendra Mukul, Sanjeev Kumar, Renu Sinha, R. P. Suman
More info : http://goo.gl/OTHn8w
(2) Aptitude (Mathematics)
1. Fast Track Objective Arithmetic 2014 Edition
Author: Rajesh Verma Publisher : Arihant
More info : http://goo.gl/GD5lqK
2. Quantitative Aptitude For Competitive Examinations 24th Edition
Author: R. S. Aggarwal Publisher : S.Chand
More info : http://goo.gl/ePGDEp
(3) English
For postal exam preparing English Grammar & Vocabulary up to 12th standard is enough. You can also prepare from old English Grammar work books.
The below books covers well in all grammar topics, also contains objective type questions. Practice as much you have the time.
General English for All Competitive Examinations 1st Edition
Author: SC Gupta Publisher : Arihant
More info >> http://goo.gl/DfNDRu
Objective General English 2012 Edition
Author: SP Bakshi
More info >> http://goo.gl/931VAe
(4) Reasoning
How to Crack Test of Reasoning in all Competitive Exams: Contains More Than 2000 Solved Questions
Author: Premkishan, Jaikishan Publisher : Arihant
More info : http://goo.gl/jJFHvl
2. Postal Exam Specific Books
If you wish to get more specific information about Postal Examination, then buy any one book from the below list or buy similar one.

These books covers only important topics
1. Postal Assistants / Sorting Assistants Recruitment Exam 2013-14 1st Edition
Author: Arihant Experts
More info >> http://goo.gl/PpLwIZ (Flipkart) , http://goo.gl/wVMKJn (Snapdeal)
2. Department Of Posts: Postal Assistant Sorting Assistant Recruitment Exam 01 Edition
Author: R. Gupta's
More info >> http://goo.gl/VxeSbC (Flipkart), http://goo.gl/MVnTkN (Snapdeal)

3. 15 Practice Sets - Department of Posts Postal Assistants/Sorting Assistants Recruitment Exam
Arihant Experts
More info >> http://goo.gl/xkBq4c (Snapdeal)